This week is National Apprenticeship Week, so we asked our Building Surveying Apprentice, Liam, about his experiences as an apprentice in the construction industry.
Hi Liam, when did you first start your apprenticeship with Arcus?
I first started my apprenticeship in early February 2019.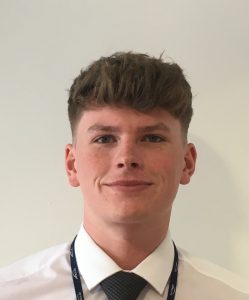 Why did you decide to pursue an apprenticeship and what attracted you to Building Surveying?
I decided to pursue an apprenticeship in building surveying, following a fascination for the built environment and property from a young age. Building surveying initially attracted me as I enjoyed completing my work experience at Arcus and assisting with work across a variety of disciplines within the industry. I had also completed on-site based work experience prior to my time with Arcus in engineering and site management. I preferred the fast-moving nature of building surveying; in particular, enjoying overseeing projects from inception through to completion both on and off site and overcoming the array of challenges that brings.
What does your typical workday involve?
It's true 'no two days are the same on site' in construction. Similar can be said about my role within the organisation as an Apprentice Building Surveyor. My typical workday includes undertaking contract administration duties such as preparation, analysis and evaluation of tender documentation. Assistance with the delivery of large scale planned maintenance programmes across the region, project management of refurbishment and newbuild projects, surveying existing buildings and on-site progress inspections. H&S audits under current regulations and attendance of CDP seminars to further advance my professional knowledge of the ever-advancing industry in relation to construction law, statutory regulations and new innovative technologies utilised within the sector.
What do you enjoy most about your role?
I enjoy having the opportunity to assist senior professionals across a range of projects allowing invaluable exposure to a wide variety of works with associated Clients and Contractors alike. My colleagues instil confidence in my ability when assisting them across various project types encouraging me to flourish and develop. I enjoy having the opportunity to work alongside and observe aspects of construction from the perspectives of an illustrious team of experienced industry professionals alongside my studies, working towards a highly established, widely recognised qualification.
What advice would you give to others considering an apprenticeship in the Construction Industry?
My apprenticeship with Arcus has allowed me to increase my knowledge in the construction industry and develop as a valued member of staff within the workplace. The apprenticeship has not only given me the ability to earn while I learn but also the opportunity to work towards a qualification and a career with real progression. My advice to others considering an apprenticeship in the construction industry would be to be yourself, work hard, retain and practice advice from co-workers and you will thrive in your chosen role and find your own professional identity within the industry.
Where do you see yourself in 10 years?
In 10 years, I see myself as an experienced RICS Accredited Graduate Building Surveyor managing large scale projects independently for the company. I see myself being involved in multi-disciplinary teams, working among the in-house professionals at Arcus and in wider organisations. I hope to be working towards Associate Partner level.